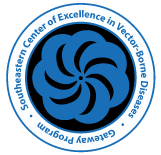 The SECVBD is multi-disciplinary, multi-site collaborative effort spanning the southeastern United States. The primary team is comprised of eight academic institutions and two health departments.
Our stakeholders and collaborators include additional academic partners, local agencies, state agencies, and federal agencies. The overall coordination is based out of the University of Florida, with a shared management structure led by primary institutions.
Four investigator-led core teams will manage specific components of the SECVBD:
Administrative Core, Data Core, Pathogen Core & Outreach Core
The core model puts into place a collaborative, sustainable, and robust support system for all partners.